Greeting Each Other on Devices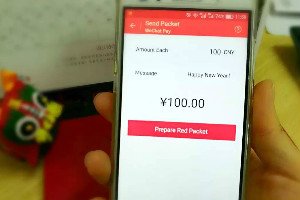 a WeChat red envelop
Sending cell phone messages
had become the main way to greet people on Chinese New Year's Eve this decade. In the past people sent New Year cards or called each other to express their good wishes during the Spring Festival.
Now
more people use instant messages on WeChat (the most popular social media app in China, like WhatsApp and Facebook Messenger in the West) to greet their friends.
Exchanging App Red Envelopes — Top Thing for the Young in Recent Years
App-sent/received "red envelopes" appeared in recent years, and they soon become the most popular New Year activity among the young. Many young people spend most of their New Year holiday time exchanging cyber money via red envelope apps for fun.